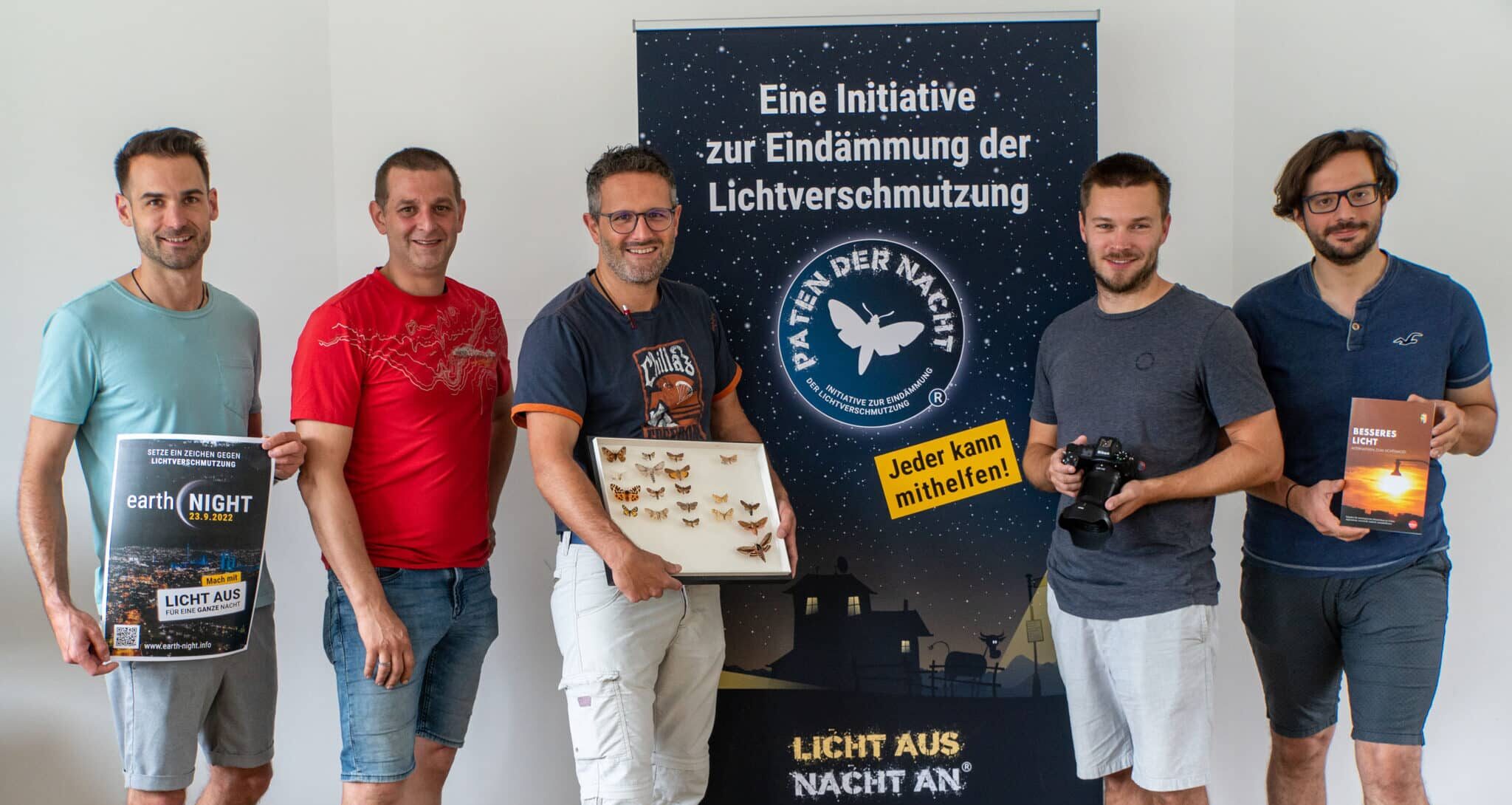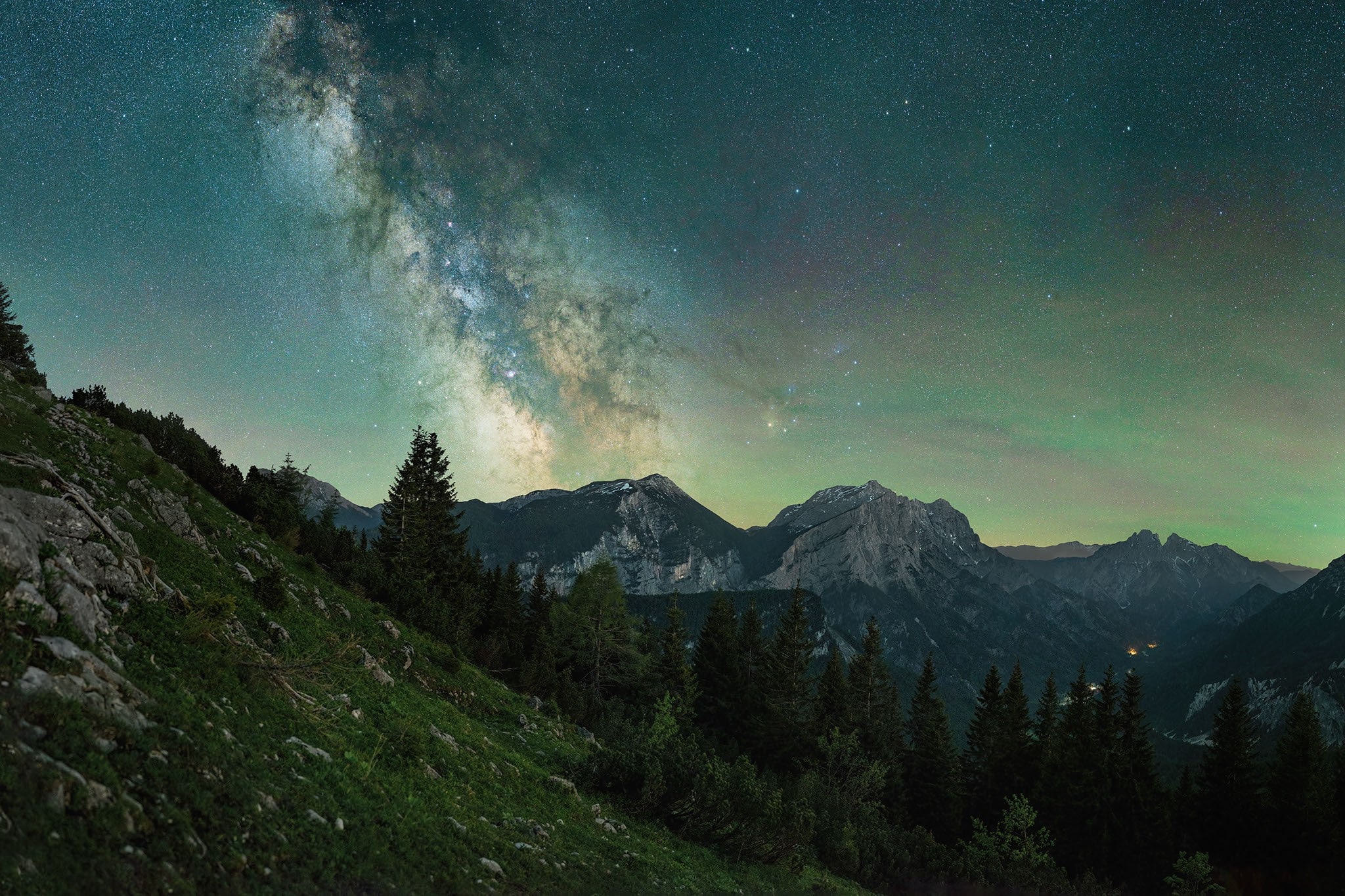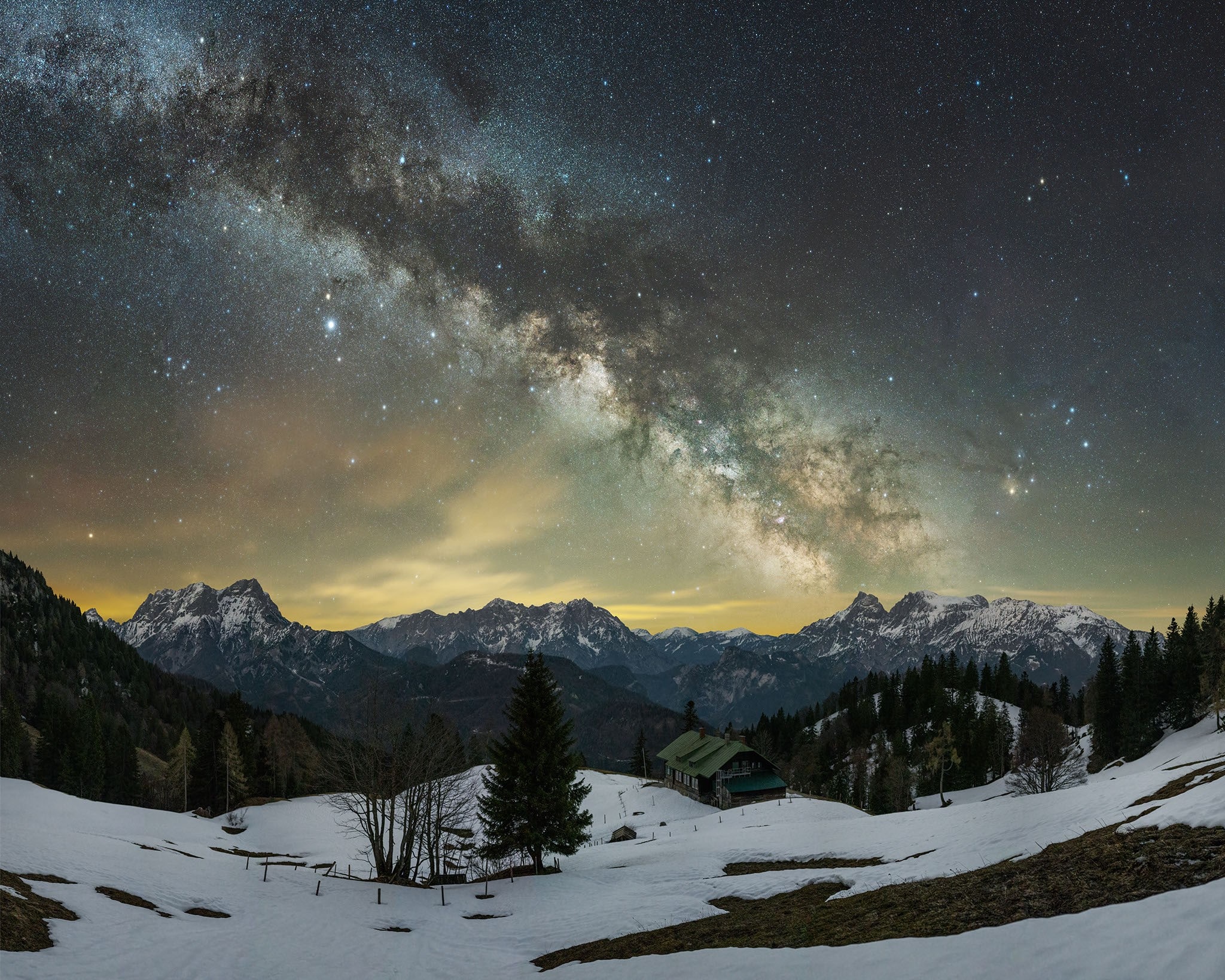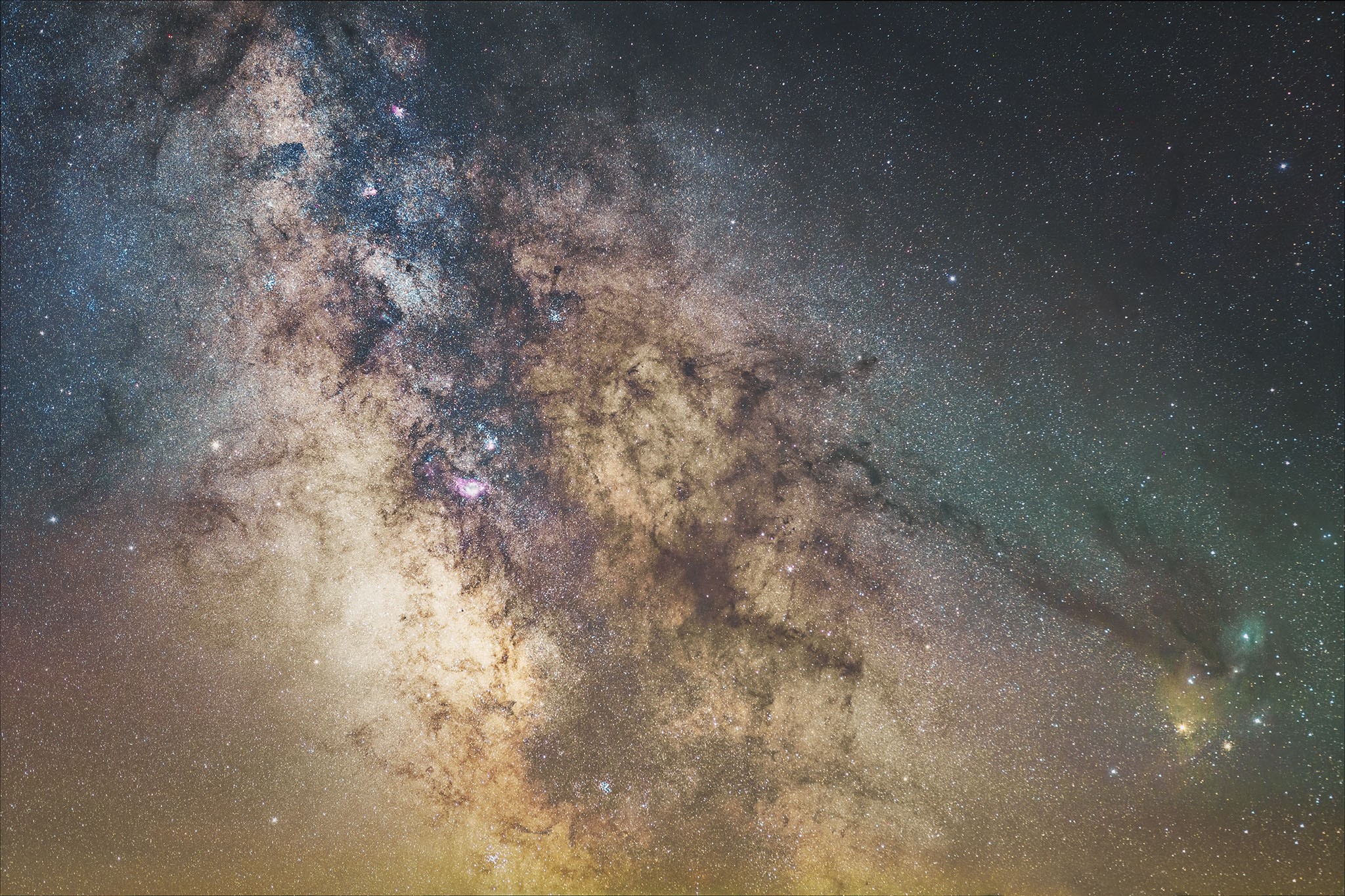 Godfathers of the Austrian Night founded - Preservation of the naturally dark night as a major goal
Last weekend, committed night nature conservationists from various provinces met in one of the darkest places in Austria - the Gesäuse National Park - to found the chapter "Godparents of the Night Austria". In addition to a lecture on the topic of light pollution, a networking workshop was also held and various lighting situations (luminaires with high light pollution potential such as ground spotlights but also positive luminaires with targeted light) were discovered and discussed during an inspection in Admont.
"For us as a national park, the meeting was very valuable. We are pleased when the Gesäuse is perceived throughout Austria as a region where nature is still much more intact than in many other places in the world, reports Andreas Hollinger from the Gesäuse National Park. "In Admont, the experts have noticed that a great many street lamps have already been converted to energy-saving LED technology. The beam angle of these luminaires is good, the light hits the street and is not emitted into the sky. The lamps could be dimmed, which would save even more energy and money without being perceived as "less bright" by the eye. Admont is already on the right track. The situation in Marienpark, where a monument is illuminated with floor spotlights, is a prime example of how not to do it. But even there, there is an easy and cheap solution: with a stencil that is mounted in front of the spotlights, you can dim the light that does not hit the monument but shines pointlessly into the sky. Low cost and great effect. Very valuable to get such practical tips," Hollinger continues. "In future, we will cooperate much more between the protected areas on the subject of light pollution. With the Kalkalpen and Gesäuse National Parks, the Dürrenstein-Lassingtal Wilderness Area and the Steirische Eisenwurzen Nature and Geopark, we have optimal conditions for this, Hollinger concludes.
Raising awareness of the effects of light pollution
The declared aim of the volunteer activists of "Godfathers of the Night Austria" is to raise awareness of the negative effects of too much and too bright light on nature and people. Especially in times of an energy crisis, the immense consumption of resources and energy for the production and operation of lights must be denounced. In recent years and decades, light as a resource has become so cheap (especially due to the development of LEDs) that it is used almost wastefully. Thus, too much (too many light sources), too bright (too high luminous intensity), too long (often all night), too blue (white-blue daylight suppresses the sleep hormone melatonin) and also simply for fun (e.g. sky lights, building and garden lighting) is illuminated. The "Godfathers of the Night" want to change this and, in addition to raising awareness, will above all develop concrete proposals for action. Moreover, they want to build up a network of experts from the fields of lighting technology, astronomy, environmental protection, nature conservation and medicine for the preservation of natural night-time nature.
Fantastic impressions of a naturally dark night sky
How beautiful and magical a naturally dark night sky can be was presented by team member Michael Kleinburger in his recently released film "Noctis Austria". See also https://www.youtube.com/watch?v=Rt3LxL-n2KQ or https://kleinburger.com/
Statements by the representatives of the federal states
Simone Jungwirth - "Godfathers of the Night" Lower Austria - Doctor of Social Sciences
"When individual voices become one - together against light pollution, that is how I see our motto at the Godfathers of Night Austria. We unite our different personal expertise (I come from night sky photography) in the goal of making the night in Austria darker again and thus making people, nature and our environment healthier. No other area polluted by humans can be cleaned up so comparatively easily and quickly. Often it is just a light switch that is turned off or not turned on at all. This fact and the fact that we all - whether as a company, as a municipality or as a private individual - can easily make a contribution here, drives us anew every day."
Christopher Rogi - "Godfathers of the Night" Carinthia - Doctor of Electrical Engineering
"Already in my first years as a visual hobby astronomer, I noticed the issue of light pollution. However, I only became really active at the end of 2021, when I realised how many other aspects of nature are also massively negatively affected by it. The first personal meeting of the Godfathers of Night Austria symbolises the solidarity of committed private individuals who are not annoyed by the global problem of "light pollution" but instead take active action against it. Only together can we achieve something here, and everyone who wants to join in is very welcome."
Stefan Wallner - "Godfather of the Night" Burgenland and Vienna - Doctor of Astrophysics and head of the scientific working group "Light Pollution" at the University of Vienna
"Light pollution is one of the greatest environmental threats of our time and a growing problem. Not only the scientific approach to this phenomenon, but also the active work with the public, industry, communities and others is of top priority. Therefore, the Godfathers of Night are an excellent association to protect Austria's night skies, among the darkest in Europe, and to raise awareness in urban areas. I am happy to be a part of it, our first meeting was a good starting point for the years to come."
Ursula Asamer - "Godfather of the Night" Upper Austria - nature educator and book author
"With artificial light, less is often more. As an active nature conservationist, I am committed to the preservation of the Nature Night. It is of great concern to me to preserve the complex thematic world of the largely unknown habitat of night nature and to make the Nature Night a respected conservation event. The preservation of biodiversity is closely linked to the habitat of night nature. Awareness of this can grow with the help of nature education".
Michael Kleinburger - "Godfathers of the Night" Styria - Astrophotographer
"There is no substitute for a dark night sky, is a principle of astrophotography. When I photograph the Milky Way, but also distant nebulae and galaxies, I rely on natural darkness. With my work I want to draw attention to the increasing light pollution and remind people how fascinating and significant our connection to the universe is."
Klaus Reitbauer - "Godfather of the Night" Lower Austria - self-employed master car mechanic
"In my immediate living environment, I try to sensitise and convince fellow human beings that if they do illuminate, then at least choose other lighting such as downward light beams, lower luminous intensity and more yellow light colours to improve dazzling and wasteful lighting situations. Often, a small adjustment or change of position, a timer, motion detectors and the like can help. I try to use simple methods to mediate in a solution-oriented way. That's why it's important for me to reach out to local authorities, their planners and also installers with my commitment, so that I can offer help and advice.
 Clemens Schnaitl - "Godfathers of the Night" Upper Austria - Protected Area Manager & Nature Educator
"With every burning lamp, every glaring spotlight and every flashing advertising light, we obscure the free view of the twinkling stars in the firmament. As a result, we can no longer experience these unique night-time natural spectacles. The world cultural heritage "starry sky", to which mankind owes the development of time measurement, the determination of the seasons, orientation at night and, above all, thousands of stories, experiences and discoveries, is increasingly threatening to fade, to be lost in a sea of lights ... and I cannot and will not allow that."
Othmar Ortner - "Godfather of the Night" Salzburg - Photographer and Star Guide
"What motivates me in my work against light pollution is how easy it is to minimise. Light sources that have little impact on the night sky often cost the same as those that significantly brighten the sky, thus removing the basis for any discussion on cost-effectiveness. I think it is therefore particularly important to do a lot of education work in this area and to actively assist community representatives."
Basic info "Godfathers of the Night   www.paten-der-nacht.at
Godfathers of the Night is a non-profit organisation to curb light pollution that launched in September 2019 with this website and an info flyer on light pollution. This non-partisan association is supported by volunteers (team members) based in Germany and Austria. The necessary expertise is generated through a broad network of experts in which we are integrated. Our motto: "Lights out. Night on."
Basic info "Earth Night" - 23 September 2022      www.earth-night.info
Earth Night is an event where people try to reduce artificial outdoor light as much as possible for at least one whole night a year. This action always takes place on the Friday in September that is closest to the night of the new moon. From 10 p.m. at the latest, the motto is: Lights out! For at least one dark night per year.
In contrast to Earth Hour (where light is switched off/reduced for one hour every year on a March evening from 8.30 pm), Earth Night is about switching off or at least significantly reducing light for a whole night from 10 pm at the latest.
Earth Night wants to draw attention to the problem of steadily increasing light pollution caused by the unrestrained consumption of artificial light by us humans. All this light is making our nights brighter and brighter and is demonstrably damaging the environment, people and nature.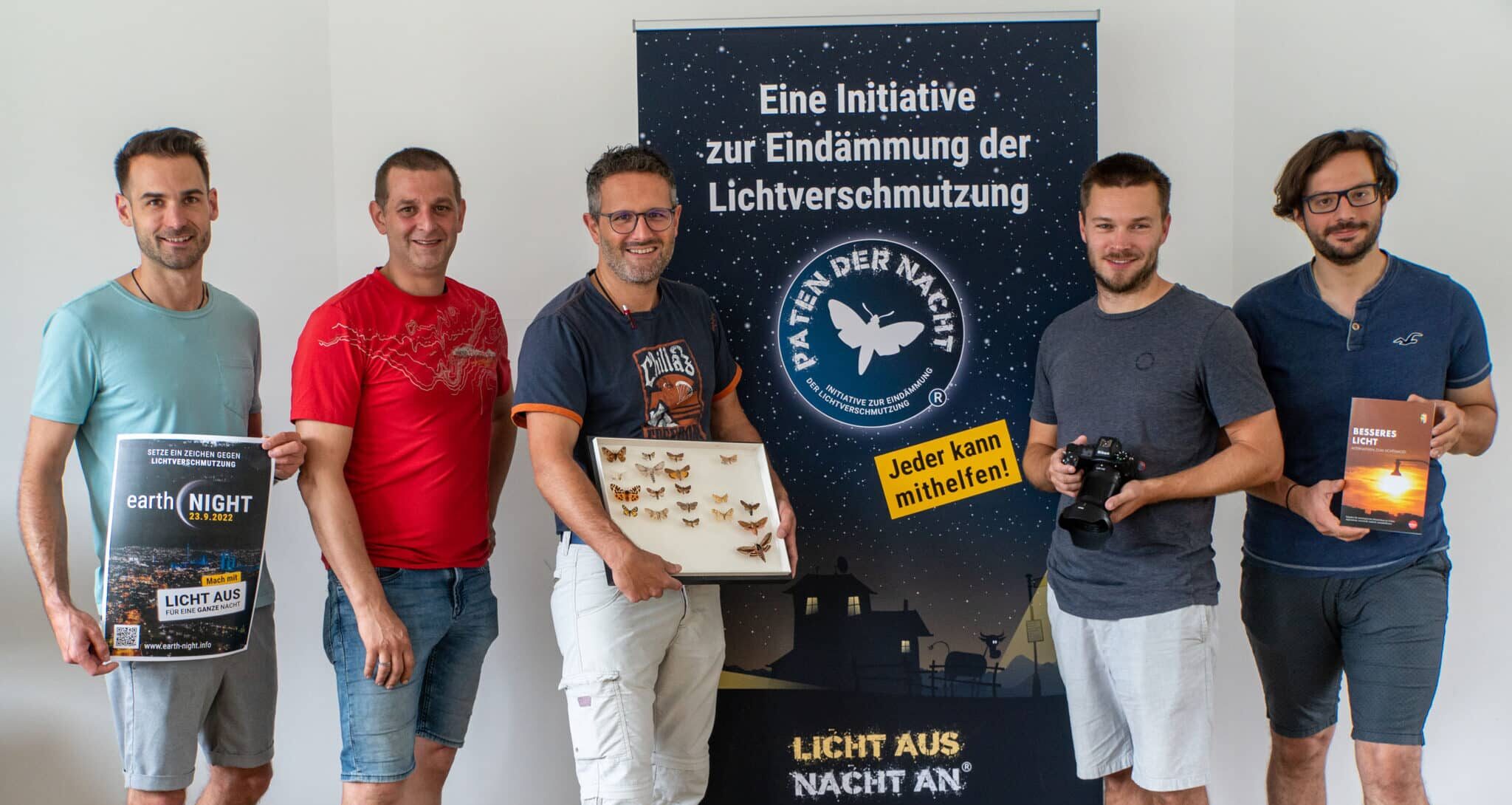 The "Godfathers of the Night" team in Austria © Klaus Reitbauer
There are few places in Europe where the starry sky can be observed as well as in the Gesäuse © Michael Kleinburger
There are few places in Europe where the starry sky can be observed as well as in the Gesäuse © Michael Kleinburger
There are few places in Europe where the starry sky can be observed as well as in the Gesäuse © Michael Kleinburger
General press enquiries:
Andreas Hollinger, Tel: 0664-82 52 305
Photos:
Download link: https://nationalpark-gesaeuse.at/service/presse/
Rights notice: Use exclusively for reports in connection with this press release and with citation of the image rights. Any other use of the image material requires the consent of Gesäuse National Park GmbH.
Download press information